Telehealth – PacMed Virtual Visits
In these uncertain times, we're making it easy and safe to talk to your primary or specialty health care provider from your home using Zoom technology on your smart phone, tablet or computer.
A telehealth visit allows you and your provider to connect via your electronic device without going to a clinic or hospital for an appointment. During your consultation, your provider can talk to you about your health concerns, work on a care plan, and if needed, provide a prescription order while you remain safe in your home.
A telehealth visit is the same cost as your standard office visit co-pay.
Virtual visits are useful for many issues such as:
Rashes
Possible pink eye
Urinary tract infections
Sore throat
Seasonal allergies
Cold/flu
Constipation
Follow-up on chronic medical conditions
Mental health visits
Our specialists are also conducting new patient consults and visits using Zoom when appropriate.
A note about security: PacMed is partnering with Providence to use a dedicated, secure portal for patient visits through Zoom. Enhanced security measures include encryption, meeting IDs and visit verification to ensure your Telehealth visit is private and secure. Providers are assigned unique meeting IDs that are password protected with "virtual" waiting rooms. This ensures that only your provider and you will be admitted to your visit. Providence's Information Security team (our affiliate partner) regularly monitors Zoom for any security concerns that might arise.
How to Schedule
Call your primary or specialty health care provider to schedule a telehealth visit.
Once a date and time is confirmed, you'll receive a message in MyChart with the appointment specifics and a link to the Zoom telehealth visit, which you will click on the day of your appointment.
If your primary care provider is unable to see you on the date and time you request, our virtual care provider, Dr. Jody Rhoades, may be able to see you.
Download instructions:
For Zoom Technical Support, please call 1.844.943.1076
Before Your Visit
What you'll need before your telehealth visit:
A stable internet connection.
A quiet place for your visit.
A working camera, microphone and speakers on your mobile phone or desktop or laptop computer (Windows or Mac). These may be built in or you can use an external plug-in camera and headphones.
A current MyChart account linked to PacMed. If you aren't set up, visit our MyChart page.
A scheduled telehealth visit (see above).
If using mobile, you'll also need to download the free Zoom app onto your smartphone or tablet.
Zoom Cloud Meeting via tablet or phone:
You'll need to download the free Zoom app onto your smartphone or tablet.
Click the "Get" or "Install" button to download the app.
When the download is complete, click the "Open" button to open Zoom.
At the bottom of the page, click "Sign Up" to set up your Zoom account.
When you set up your Zoom account you'll want to allow access to the camera and microphone on your device. You'll see these options when you open your first Zoom meeting.
15 Minutes Before Your Visit
Log into your MyChart account from your mobile device app, or on your computer by going to Mychart.com.
Tap "Messages" if you're on a mobile device, or "Messaging" from your computer.*
In your "Inbox" you'll see a message from your provider for a "telehealth visit." Click the message to view instructions and see the hyperlink to your meeting. A hyperlink is a series of words which are underlined and in a different color. They serve as a button to "link" you to something else.
Three to five minutes before your scheduled appointment time, click on the hyperlink that says "Join meeting with Dr. _____" and the meeting will open and you'll be taken to a "virtual waiting room."
You're there! Now all you need to do is relax and wait for your provider to join you. (In Zoom they're referred to as the "host.")
*Note: For Behavioral Health, Renton Family Medicine and Internal Medicine, and Lynnwood Family Medicine and Internal Medicine telehealth visits, the MyChart link to your Zoom visit will be located in the "Appointments" or "Visits" area of MyChart. To see how the workflow will change, view this side-by-side comparison handout.
When your provider joins you in your telehealth visit, you'll be "admitted" to the visit, and prompted to join by computer audio. You may also be prompted to allow access to your microphone and camera.
Manage Your Care With MyChart
When you sign up for MyChart, you can manage your own medical record and your family's medical records from home or any computer, tablet, or smartphone. Login to MyChart to:
Connect with your doctor
Email your care team
Pay your bill
Request prescription refills
Schedule an appointment
View lab results
Helpful Information
How it Works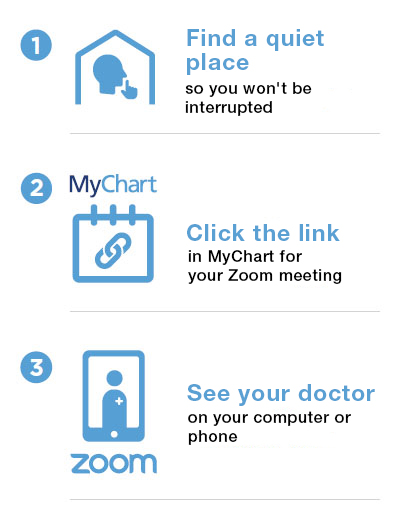 What You'll Need