Let's Get Back on Track
As we venture back to the activities we love after our time at home, we want to be set up for success. If we've fallen behind with any of our health check-ups, screenings or immunizations, now is the time to get caught up so we can re-engage with confidence.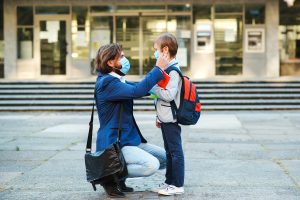 Summer is the time of year when parents begin thinking about getting children ready for school – with physicals, shots – everything they need to start the year right. Parents returning to the office may also want to ensure you have your health in order and a team ready to support you.
We're living through a lot of change. To find stability, mental health experts encourage us to find and stick to routines. This advice is even more important when it comes to basic health routines—because it can keep your health stable, and ready for any additional changes the future may bring.
For kids, summer physicals and immunizations do more than satisfy school requirements. They also provide peace of mind to families, knowing normal development and preventive measures are on track. Now is the time to take care of these basic health needs, before cold and flu season is upon us.
The following resources can help you see what your children might be due for:
For adults, routine screenings become more important as you age, and many vaccinations you've received earlier need to be renewed periodically to keep your body in top shape to fend off ailments–and be ready for the world!
Cost of care
Basic screenings and annual check-ups are often covered at no cost by insurance plans, but keep in mind that the free visit does not cover any problems you may be experiencing. If you have a health concern for the doctor, or if your screening uncovers something, your visit will either be upgraded to cover the consultation while you are there, or you may need to schedule separate follow-up visits for the care you need.
Some youth patients may be eligible to have the cost of vaccines covered by the federal Vaccines For Children (VFC) program. Even if your vaccine is covered, there may be additional charges, for the office visit or testing, which are not covered by VFC.
It is always a good idea to check with your insurance provider to see which services may be covered for you or your family. You can message your care team on MyChart or call your clinic if you have questions. We can tell you what we expect you and your family will need, so you can ask your insurance about coverage in advance of your visit.
Experts' Corner
Hear what PacMed providers are talking about for getting back on track in 20201.