Summer Travel Tips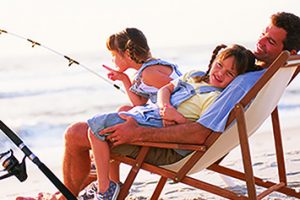 Summer is here and we are now ready for summer travel. Dr. Ari Gilmore at Pacific Medical Centers shares these tips with you for fun and safe travel.
Sun safety:
Wear sunblock! This is important for long-term skin health. Apply SPF 30 or higher every two hours, or after swimming in salt water.
Water safety:
Avoid alcohol while boating driving or have a designated boat driver- this is important for the safety of individuals on the boat, as well as others in the water
Know your own human capacity with ocean currents and waves. It's easy to get caught in a riptide if you aren't careful. To get out, follow these steps: Relax (don't panic), face into the waves and swim out diagonally, once you are 100 feet to the left or right, try to come out of the water again.
Physical safety:
Wear the right shoes for the activity, i.e. do not hike in flip flops. Keep an eye on the ground when you're walking- it's easy to get distracted by the sights; we see a lot of sprained ankles from patients accidentally tripping.
Food safety:
If you're going to eat a meal from a food truck, observe it first to see if they have clean meal preparation surfaces, whether or not it's a busy place can also be a sign of the likelihood of food safety. Avoid eating fresh fruit that has been prepared out of your sight. Cooked vegetables are generally alright to eat but it's a good idea to avoid the lettuce/cabbage on your tacos. Always be sure you wash your hands with soap and water before eating.
Health/vaccines:
Avoiding Zika virus: Zika is endemic near the equator, in warm humid climates. Physicians recommend women wait eight weeks after departing a location where Zika might be present before attempting to get pregnant. Likewise, we recommend men wait six months after visiting, as they have the ability to transmit the disease for some time, even after symptoms have subsided.
Make sure you have the proper vaccines if you're travelling abroad. Visit www.CDC.gov/travel or see a travel physician regarding malaria, typhoid and yellow fever. The CDC recently mandated that people travelling to Brazil need to receive the yellow fever vaccine. It's best to see a physician one month prior to travel to ensure you can receive all necessary vaccines.
Tips for long flights:
Jet lag has less to do with time changes and more to do with the low pressure and low oxygen levels on the aircraft. To increase your oxygen intake, drink higher volumes of water in-flight and make sure you're properly hydrated the days leading up. Also avoid drinking alcohol on the flight to avoid dehydration.
Get up from your seat every few hours to stretch your legs and do a few calf squeezes to increase blood flow.