Cardiovascular Lab
Your Heart Health is Our Primary Concern
Every heart has a story to tell. Our cardiologists at Pacific Medical Centers will work with you every step of the way to prevent heart disease as well as develop a treatment plan to manage your ongoing healthcare needs.
Cardiovascular Laboratory services are available at our Canyon Park, Federal Way, First Hill and Renton clinics. We offer patients noninvasive diagnostic ultrasound procedures that help diagnose various forms of heart and blood vessel, or vascular, disease.
So that patients may live their best lives, the PacMed Cardiovascular Laboratory is committed to excellence in screening, diagnosis and monitoring of cardiac and vascular disease. Our laboratory is accredited by the Intersocietal Accreditation Commission (IAC) in Echocardiography and Vascular Studies, and all of our sonographers are active registrants of the American Registry for Diagnostic Medical Sonography (ARDMS). By pursuing excellence, we ensure the highest standards of quality and commitment to superior clinical care for our communities.
Procedures Performed
Cardiac ultrasound
Echocardiography
Contrast echocardiography

Left ventricular opacification
Saline bubble study

Stress testing

Echocardiography, both treadmill and pharmacological
Non-imaging treadmill test
Vascular ultrasound
Cerebrovascular exams

Carotid duplex
Transcranial duplex

Peripheral arterial exams

Dialysis access duplex
Lower extremity arterial duplex with physiologic testing
Upper extremity arterial duplex
Physiologic testing—ankle brachial index with exercise
Pseudoaneurysm evaluation

Peripheral venous exams

Lower extremity venous duplex
Upper extremity venous duplex
Vein mapping

Visceral vascular exams

Abdominal aortic duplex
Mesenteric duplex
Portal/splenic vein duplex
Renal duplex
Cardiovascular Laboratory Locations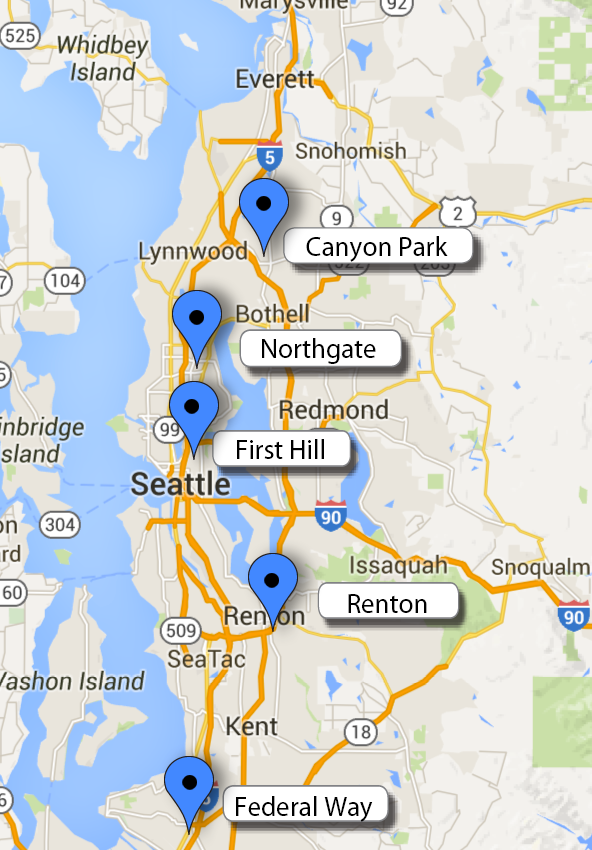 First Hill
1101 Madison St, Suite 301
Seattle, WA 98104
Canyon Park
1909 214th Street SE, Suite 300
Bothell, WA 98021
Federal Way
31833 B Gateway Center Blvd S
Federal Way, WA 98003
Northgate
10416 5th Avenue NE
Seattle, WA 98125
Renton
601 South Carr Rd, Suite 100
Renton, WA 98055