Back to Basics: Getting your child's health back on track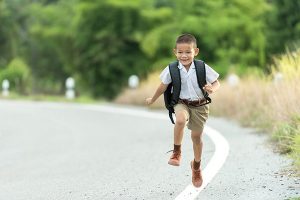 It's understandable this year if your child has gotten behind on immunizations or other care. As a primary care provider, my advice to parents is to start catching up sooner rather than later! Ongoing delay can cause new concerns.
Can we wait on vaccines? Maybe do them later?
As a rule of thumb, the longer you delay immunizations, the greater the risk to your child and others for infection of preventable diseases. Immunizations (also called vaccinations) protect your child and help keep preventable diseases from spreading. Babies and toddlers can be at higher risk of complications. And while babies get helpful antibodies during breastfeeding, this protection wears off over time. This is why we begin protecting children at an early age with vaccines.
Children who get their immunizations on time get earlier protection for these conditions. This is important as they begin interacting with more people. Childhood immunizations and visits are carefully timed to help your child stay healthy.
Your child's doctor can look at any missed immunizations or well-child visits, and help you get back on track. We will work with you to create a personalized schedule for your family. To keep your child's risks low, we want to start this process right away! Remember to get flu shots for your family this year—aim to have this done by Halloween.
Is visiting the clinic safe?
We know your healthcare needs are important, even in the middle of a pandemic. PacMed is fully committed to your family's health and safety. We screen every visitor for COVID-19 symptoms; anyone with symptoms will be moved away from waiting areas for testing. Patients are also screened for symptoms before scheduling appointments. Wearing a mask is required in our clinics. We are offering virtual visits, so you'll find there are fewer people in the clinics. We also have spaced out appointments to allow for social distancing and rigorous cleaning procedures.
Well-child visits help your child's primary care provider stay on top of their health and development. Your child's provider can make a personalized recommendation on how to proceed with routine visits, needed screenings or immunizations. For children 2 and under, we likely will need the child to come in for an in-person visit, but call your primary care provider first to see what is recommended.
When is a virtual visit the right choice?
If you need lab work or a vaccination, then you'll need to come in. Of course, an injury such as a broken bone needs to be taken care of in person. With other health issues, a good first step is to call your provider's office and ask if a virtual visit is an option for you.
At PacMed, you can communicate with your care team in MyChart, but if your need is urgent, pick up the phone. We will help you choose the right kind of visit and, if that's a virtual visit, we'll make sure you know how to use Zoom to meet us online. If you bring a child in for an appointment, only one parent or guardian may accompany them, due to COVID-19 precautions.
Any tips on how I can help my child feel comfortable and safe?
This is a hard time for most everyone, and especially children who may not fully grasp all that's going on. It can be helpful to explain to your child several times, and in different ways, the importance of social distancing and handwashing. Leading by example is also very important. For example, when you are washing hands, have your children do the same—and sing a song together to make sure you scrub for 20 seconds.
Also be sure to talk with your child about why we wear a mask, and demonstrate how to do it. The mask should go over the nose and under the chin. Finding a fun print, a comfortable fabric or a good fit for the child can help make this a better experience.
Everyone can work together to keep our community healthy during this time. Thank you for doing your part. At PacMed, our primary care team is here for you.