Mediterranean Diet Rated "Best Diet"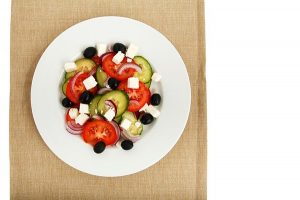 On January 2, US News and World Report unveiled the Mediterranean diet as its Best Overall Diet for 2019. In addition, the Mediterranean diet also came in first for easiest diet to follow, best diet for healthy eating, best diet for plant-based eating and best diet for diabetes. Learn more in this CNN article.
The health of Mediterranean nutrition is no surprise. Numerous studies have shown that Greeks, Italians, French and Spaniards along the Mediterranean coast often live long, healthy lives. Meals from the sunny region have been linked to reduced risk for high cholesterol, diabetes, dementia, depression, memory loss and breast cancer. The diet has also been found to support weight loss, strong bones and a healthy heart.
The Mediterranean diet is a pattern of eating, not a structured diet. It has no rigid rules and offers lots of choice and variety. It even promotes a glass of red wine and the occasional treat! Many call it a lifestyle, with frequent socializing over meals, mindful eating and daily exercise such as walking.
Meals emphasize simple cooking and include lots of vegetables, fruits, whole grains, seeds, beans and legumes. Dishes lean heavily on olive oil and flavorful herbs and spices, and fish and seafood are eaten at least twice a week. Poultry, eggs, cheese and yogurt are enjoyed in moderation. Sweets and red meat are saved for special occasions. Finally, red wine and plenty of water round out the diet.
Check out this sample one-day menu to whet your appetite. "Buon appetito! Kalí órexi! ¡Buen provecho! Bon appétit!"
---
The Living Well Alliance is run by Pacific Medical Centers. Call us today at 206.621.4419 for more information or email LivingWellAlliance@pacmed.org
.
*Some patient names in this publication have been changed for privacy.