Recipe: Dry January Kombucha Mocktail
See this recipe demonstrated by an LWA expert!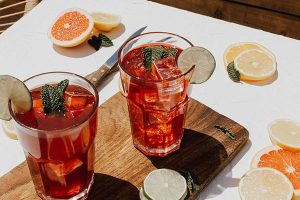 Kombucha is a fermented,* lightly effervescent tea-based beverage that is relatively low in calories and sugar. It contains live and active cultures (similar to yogurt) that help strengthen your gut microbiome. Kombucha is refreshing, bubbly and subtly sweet, especially if the brewer combines it with fruit juice.
Serves:
4
Prep Time:
15 minutes
Cook Time:
15 minutes
INGREDIENTS
One 16-oz bottle passion-berry kombucha (such as Synergy GT)
Two 12-oz cans mango-flavored seltzer water (such as LaCroix)
10 mint leaves, lightly chopped
1 lime
Ice (optional)
DIRECTIONS
Lightly muddle chopped mint by firmly pressing against it with the back of a large spoon. To four glasses, add mint and lime slice. Top with 4 ounces kombucha and 6 ounces of seltzer water. Serve immediately.
NUTRITIONAL INFORMATION
Per serving (one-fourth of recipe):
Calories: 20 Total Fat: 0g Sodium: 6mg Total Carbohydrate: 7g Fiber: 0g Sugars: 5g Protein: 0g Potassium: 17mg
Recipe adapted from @get.inspired.everyday by Kari.
*Commercially sold kombucha may have up to 0.5% alcohol.