What To Expect From a Telemedicine Appointment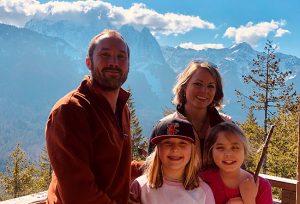 One medical practice that the COVID-19 crisis has accelerated is a mainstream use of telemedicine, in which appointments are held remotely over HIPAA compliant video-conferencing tools. Though different forms of telemedicine have long been available, the practice is gaining serious momentum in a time when we're avoiding heading to the doctor's office unless we absolutely have to.
"While we had been planning to expand telehealth soon, it took this terrible crisis to take us from crawling to a full sprint in a matter of weeks," said Dr. Nawal Alkharouf, a pediatric provider at Pacific Medical Centers' Canyon Park clinic. "It was a little like building a plane while flying it, but our providers were incredibly understanding and enthusiastic. We have all been amazed at how much we can do just by talking to and seeing the patient."
Telemedicine appointments can be used for myriad purposes, including diagnoses. Recently, Sara Montagne's 8-year-old daughter, Phoebe, started experiencing violent stomach pain, which ended up being diagnosed as appendicitis thanks to a telemedicine appointment with her pediatrician, Dr. Alkahrouf.
"I called in and the person on the phone guided me through how to set up my accounts because I had never done it before," said Montagne, who lives in Bothell. "I was linked into the doctor, and it felt like we were sitting in the room together."
Montagne weighed her daughter and took her temperature, and then was asked to be the doctor's hands; her husband held the computer so Dr. Alkharouf could see Phoebe's reactions to her pressing in different areas.
"Doing a telemedicine appointment hadn't really crossed my mind before," she said. "It was so helpful, too, because my daughter was in a lot of pain, to just be able to do it from home."
Once Dr. Alkharouf suspected appendicitis, Montagne was on the way to the hospital, with Dr. Alkharouf having called ahead to make the process smooth and seamless.
"While telemedicine is new for many, this form of treating patients will continue to grow," Dr. Alkharouf said. "Rather than having to make time for a scheduled appointment and travel to the clinic, patients have the ease of conveniently being seen via telehealth."
To get the most out of your appointment, Dr. Alkharouf recommended that you see a provider that you have an established relationship with for continuity of care and take 10 to 15 minutes before the appointment to check your patient online portal or email for instructions, complete a screening questionnaire, confirm that your health history is updated, have pharmacy and medical insurance ready, and prepare a list of questions that you would like to discuss with your doctor. She also said that you should also take your basic measurements (height and weight) and check your vital signs (temperature and pulse rate).