PacMed promotes two leaders to expand primary care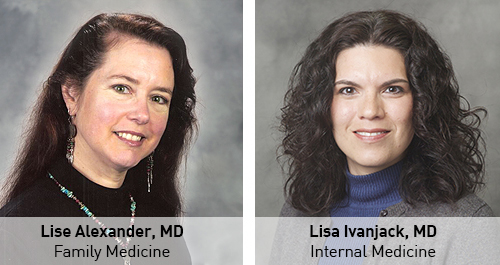 PacMed is proud to be keeping patient care at the center by expanding our primary care leadership to a team of Co-Chiefs. Drs. Alexander and Ivanjack will help us to adapt to the evolving health care landscape by re-shaping aspects of primary care delivery and operations, strengthening our care model and improving recruitment, all while maintaining their connection to patients by continuing to practice medicine.
These promotions fill a vacancy left by Dr. Betsy McCarthy's return to medical practice full time. Drs. Ivanjack and Alexander each have served over seven years with the PacMed family.
Dr. Ivanjack trained at the Mayo Clinic School of Medicine in Minnesota with a focus on preventative medicine, chronic diseases and women's health. She has been named one of Seattle's Best Doctors by her peers the past four years running.
Dr. Alexander trained here locally at University of Washington and the Swedish Medical Center at the Indian Health Board, and focuses on well-child exams, women's health and adult chronic health issues. She has written about fostering the primary care culture by nurturing patient relationships over time, gaining rich insight to help tailor health recommendations and diagnoses to each individual patient.
Learn more about our new Co-Chiefs:
Lise Alexander, MD
Lisa Ivanjack, MD